Honored by The Equal Employment Opportunity Commission
---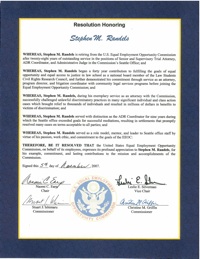 click image for pdf version
At a meeting on November 5, 2007, members of the U.S. Equal Employment Opportunity Commission issued a resolution expressing their appreciation for Steve Randels' contributions to fulfilling the goals of equal opportunity and equal access to justice and his accomplishments as a litigator and ADR Coordinator in advancing the mission and accomplishments of the Commission. The resolution states in part:
---
Stephen M. Randels began a forty year contribution to fulfilling the goals of equal opportunity and equal access to justice in law school as a national board member of the Law Students Civil Rights Research Council and further demonstrated his commitment through service as an attorney, program director, and litigation director with community legal services programs…;
[D]uring his exemplary service as an attorney with the Commission, [he] successfully challenged unlawful discriminatory practices in many significant individual and class action cases which brought relief to thousands of individuals and resulted in millions of dollars in benefits to victims of discrimination;
[He] served with distinction as the ADR Coordinator for nine years during which the Seattle office exceeded its goals for successful mediations, resulting in settlements that promptly resolved many cases …;
[He] served as a role model, mentor, and leader to the Seattle office staff by virtue of his passion, work ethic, and commitment to the goals of the EEOC.
Career Profile by King County Bar Association Publication
---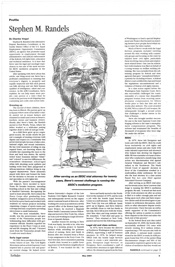 click image for pdf version
The May 2001 issue of the King County Bar Association's monthly publication "The Bulletin" contains a lengthy article profiling Steve Randels' legal career and life story.
---
Observations of participants in mediations conducted by Steve Randels
I was greatly impressed by Steve's performance. In my view as an attorney for some 23 years, he has clearly set the bar by which all mediators are to be measured.

This was a very difficult, emotional case. The mediator, Steve Randels, never gave up on coming up with solutions/suggestions to resolve the differences between the parties. His presentation, creativity and credibility made resolution, beneficent to both parties, possible. He did a great job.

… Steve Randels achieved a remarkable result as a mediator in this matter. He worked extremely hard in helping the parties not only to settle their differences but to appreciate each others' positions to the point where the employer agreed to conduct a thorough review and analysis of its past and present EEO policies and practices. As a result, my clients agreed to moderate their economic demands so that a settlement could be reached. Mr. Randels clearly articulated the parties' respective positions after patiently and thoroughly eliciting the subtleties of the relationship. While, of course, I was only privy to what went on with my clients, it is easy to extrapolate that Mr. Randels garnered the respect of all the parties. I should add that we did not conclude until after 6:30p.m., having started at 9:00a.m., not an inconsiderable amount of "volunteer" time on [his] part…

Stephen Randels is an excellent mediator and helped settle a case that most mediators would have given up on. Thank you.

Steve Randels is an excellent mediator. Please give him a raise and some paid time off!!!!

This mediation process was an excellent experience. Stephen Randels' experience … helped tremendously in reaching a settlement.

Stephen Randels did a great job and had incredible patience in the process.

I appreciated Steve Randels demeanor, his seemingly genuine concern for the parties. He understood the strengths/weakness of the … party's case.

Steve Randels was extremely helpful throughout the process. He allowed the mediation to run smoothly and was an excellent facilitator for the mediation. The process was much easier and less painful than expected!

The mediator, Steve Randels, is great in bringing the parties from [a] big disparity to a resolution. Good job to him!"

Steve Randels did an excellent job communicating between the parties and allowing the process to run smoothly. He had a great understanding of both sides/issues which made it easy for the parties to communicate.

Very skillful mediator. A pleasure to work with.

Randels knows our business and is almost always successful in resolving claims against the bank.

Mr. Randels was very effective, much more so than other agency mediators I have used in the past. My client and I were very favorably impressed by him.

Mediator did an excellent job.
Awards
Recipient of the Seattle Federal Executive Board's Annual Public Service Recognition Award for the achievements of the ADR Unit of the EEOC's Seattle District Office in 2000 and 2005.
Special Achievement Award in recognition of outstanding performance, May 22, 1986 and again May 3, 1990.
Commendation for outstanding contributions as Supervisory Trial Attorney and one to the chief trial counsel in the case of EEOC v. General Telephone of the Northwest received June 26, 1985.
Special Achievement Award in recognition of superior performance, May 3, 1982.